The new book by Robert A. Johnson
---
Recommended by American Artist Magazine; Feb 2002
"…addresses the common concerns of aspiring artists, such as how to achieve color, harmony or an Old Master quality of brushstrokes…"
"…More than a hundred illustrations provide abundant guidance and inspiration, making Johnson's book a valuable studio companion."
---
Michael Burban, Instructor, The Art Students League of New York
Author of "The Drawing Lessons of Michaelangelo"
"…This book is so well informed, so deeply felt in its
recommendations on becoming an artist that it is a must for anyone
interested in the classical traditions of drawing and painting…"
---
Maxine Johnston, Instructor, Scottsdale Artists' School
"…One of the most stunning and informative books in its field…
contains a wealth of art information and inspiration. All serious
artists and collectors should have this book in their library."
---
Featured in Southwest Art Magazine; Nov 2001
---
Foreword by Senator John W. Warner
Designed and Edited by Steve Vickery
Sunflower Publishing, LLC
New York, New York
---
The paintings of Robert A. Johnson evoke a newfound appreciation for the elegance and power of works done in the classical tradition. The principles underlying this approach to art have been passed along for the last five centuries from masters to apprentices, from teacher to student, and from painter to painter.
In "On Becoming a Painter", Robert Johnson answers some of the most persistent questions in the minds of aspiring artists, including "What in fact is color harmony, and how can I achieve it?" and "How can I capture the 'Old Master' brush work quality I admire in museums in my own paintings?"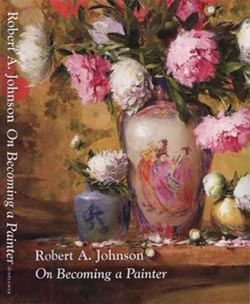 "On Becoming a Painter" includes an extensive exploration of drawing as the foundation of good painting, with numerous illustrations that show how good draftsmanship can make paintings come alive.
Robert Johnson writes with human understanding and acute awareness of the attitudes which can propel an artists' work forward or hold it back. It includes the chapter "Changing Your Life," which is directed at painters who wish to seriously consider becoming full-time artists.
Lavishly illustrated with over 100 full-color plates, "On Becoming a Painter" is an essential book not only for the up-and-coming artist, but also for the collector, the connoisseur, and the art lover – in short, for anyone who cares about good painting.